Charity presents brilliant tributes that are top rated!
WHITNEY HOUSTON TRIBUTE: I Will Always Love You
Whitney Houston or "The Voice" was recognized as the most awarded female artist of all time. She sold 200 million albums worldwide with the best selling love song even to date "I Will Always Love You".  
Charity is serenading the night away! With power vocals and music performed by some of the best musicians in the industry, Charity delivers a stunning dramatic interpretation of that familiar style. This is not an impersonation, nor imitation of Whitney Houston's flawless performance but a thrilling arrangement of Whitney's classics mixed with Charity's own vocal creativity and original music. Bring your dance shoes and your tissue boxes as you experience the music come alive.
New Whitney Houston Tribute Show featuring Charity Lockhart
ARETHA: The Queen Of Soul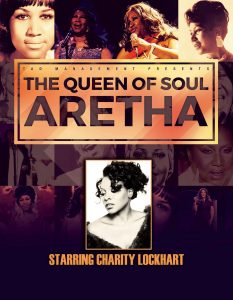 Aretha Franklin's iconic career spanned six decades, inspiring and influencing generations of aspiring musicians and vocalists. In her life, she recorded countless classics, garnered 18 Grammy Awards, The Presidential Medal of Freedom (the USA's highest civilian honor), and earned the #1 spot as Rolling Stone Magazine's list of The Greatest Singers of All Time.
You won't sit still when this sizzling spectacle is unleashed! This stunning concert stars the immensely talented Charity Lockhart, accompanied by her spectacular 10-piece band as they celebrate the legendary life & music of ARETHA FRANKLIN!
Tribute shows are managed by TAD SHOWS