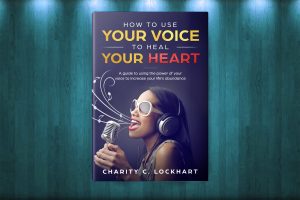 In this fascinating work, vocalist Charity Lockhart demonstrates, through practical information, biblical precepts and vocal exercises, how the amazing power of the voice functions as personal healing therapy for the enhancement of mind, body and spirit. 
How To Use Your Voice To Heal Your Heart explores the many different techniques that use voice to heal and transform and features spiritual knowledge and vocal techniques that will assist you in leading a more harmonious life.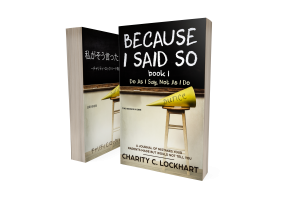 This book are stories from Charity's journal of lessons she learned through life. She paired her stories with bible stories to prove that there is an answer in the bible for everything you do so you don't have to repeat the same mistakes from history. So she encourages you to read and do what it says to enjoy a prosperous life.
In Her Shoes: Single Parent addition is a collaborative effort of Charity and 9 other single parents who have boldly and vulnerably shared their stories of trials and tribulations, triumphs and victories as a single parent. Their hope is that you will read each story and be encouraged to learn from their testimonies and journeys. Despite the obstacles, they are proud of the lives they have designed for themselves and their children.
SONGS TO HEAL YOUR HEART (CD $10)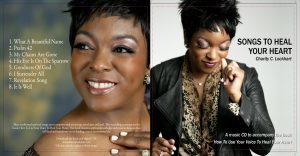 What A Beautiful Name
Psalm 42
My Chains Are Gone
His Eye Is On The Sparrow
Goodness Of God
I Surrender All
Revelation Song
It Is Well
These traditional songs are to empower and encourage your heart and soul. This recording accompanies the book, How To Use Your Voice To Heal Your Heart. This book features spiritual knowledge and vocal techniques that will heal and transform you in leading a more harmonious life.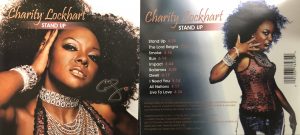 Stand Up
The Lord Reigns
Smoke
Run
Impact
Bailamos
Dwell
I Need You
All Nations
Live To Love
These gospel songs are nontraditional and features the song that inspired the theme Live To Love, Love To Live!  This record shows the variety of genres that Charity loves to perform from theater, jazz, Dubstep, Disco, Cultural, to R&B and worship. Hold on to your seat, this is full of energy!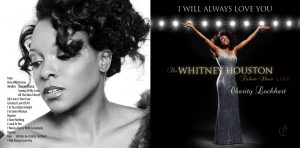 Intro
Medley (So Emotional, Saving All My Love, All The Man I Need)
My Love Is Your Love
Greatest Love Of All
I'm Your Baby Tonight
I'm Every Woman
Reprise
I Have Nothing
I Look To You
I Wanna Dance With Somebody
Reprise
Run (written by Charity Lockhart)
I Will Always Love You
Live from The Whitney Houston Tribute Show, Charity performs many of Whitney Houston's hits. This show has been performed around the world as well as with TAD productions, a tribute show management company.
To book, use the contact link.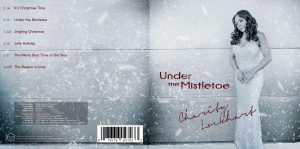 It's Christmas Time
Under The Mistletoe
Jingling Christmas
Jolly Holiday
The Merry Best Time Of The Year
The Reason Is Love
Fervor Records presents Charity Lockhart in this jazz Christmas treat. 
SINGER'S GRACE BY CHARITY (SGC)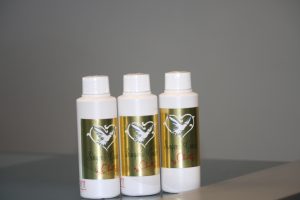 (100ml bottle $30)
Ancient Japanese Raw Colloid Healing Drink
This colloid drink is the ancient secret of health and longevity for Japanese. The rare marine colloid minerals awakened from hundreds of millions of years of sleep was used as a raw material for medicines for a long time. 
The types and main functions of 13 kinds of vitamins, including vitamin B, vitamin A and Vitamin C, LPS- Lipopolysaaharide, AION water contained in Singer's Grace by Charity (SGC).
SGC helps with:
*inflammation
*high blood pressure
*colds and flu
*arteriosclerosis 
*diabetes
*stamina
*stress
*anemia
*burns
*influenza A
*Good in the activity of sound sleep
*Reduce body-fat rate
*Increase of the basic metabolic rate
*Increase concentration ability
By Dr. H. Mayumi Kyushu National Medical Center, Cardiovascular Surgeon
EXTRA FACTS of SGC: Health food products made from the ancient ocean soil substance are still rare in Japan among so many other health foods. According to the McGovern Report of the American Senate Special Committee, intake of plant minerals  suppresses the occurrence of cancer.
Charity Lockhart testimony – "When I tried this colloid drink, my throat was sore, hoarse and inflamed. I was running a fever and I had no energy. I had a concert to perform in two hours and on the verge of having to cancel. I was asked to sit in the green room and wait. I was brought the colloid drink from Kashiro Horie, who mixed a small undiluted portion in a water bottle and had me drink it all.  He also had me spray the undiluted drink in the back of my throat, ten times. Within the hour, I was energized and sang like a bird for the concert. I was so amazed that I wanted to bring it home to help other singers. I learned of the many benefits of this drink and cleaned my medicine cabinet out to replace it with this Japanese ancient secret that was shared with me. My family and I use it as a daily supplement for everything from colds to stomach aches and even diet nutrition. The japanese company was gracious and offered to allow me to rename the all natural product, Singer's Grace by Charity." I am so honored!