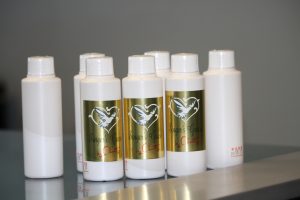 100ml bottle: $30.00
Introductory price: $20.00
Ancient Japanese Raw Colloid Healing Drink
This colloid drink is the ancient secret of health and longevity for Japanese. The rare marine colloid minerals awakened from hundreds of millions of years of sleep was used as a raw material for medicines for a long time. 
The types and main functions of 13 kinds of vitamins, including vitamin B, vitamin A and Vitamin C, LPS- Lipopolysaaharide, AION water contained in Singer's Grace by Charity (SGC).
By Dr. H. Mayumi Kyushu National Medical Center, Cardiovascular Surgeon
EXTRA FACTS of SGC: Health food products made from the ancient ocean soil substance are still rare in Japan among so many other health foods. According to the McGovern Report of the American Senate Special Committee, intake of plant minerals  suppresses the occurrence of cancer.
Charity Lockhart testimony – "When I tried this colloid drink, my throat was sore, hoarse and inflamed. I was running a fever and I had no energy. I had a concert to perform in two hours and on the verge of having to cancel. I was asked to sit in the green room and wait. I was brought the colloid drink from Kashiro Horie, who mixed a small undiluted portion in a water bottle and had me drink it all.  He also had me spray the undiluted drink in the back of my throat, ten times. Within the hour, I was energized and sang like a bird for the concert. I was so amazed that I wanted to bring it home to help other singers. I learned of the many benefits of this drink and cleaned my medicine cabinet out to replace it with this Japanese ancient secret that was shared with me. My family and I use it as a daily supplement for everything from colds to stomach aches and even diet nutrition. The Japanese company was gracious and offered to allow me to rename the all natural product, Singer's Grace by Charity." I am so honored!
SGC helps with:
*inflammation
*high blood pressure
*colds and flu
*arteriosclerosis 
*diabetes
*stamina
*stress
*anemia
*burns
*influenza A
*Good in the activity of sound sleep
*Reduce body-fat rate
*Increase of the basic metabolic rate
*Increase concentration ability